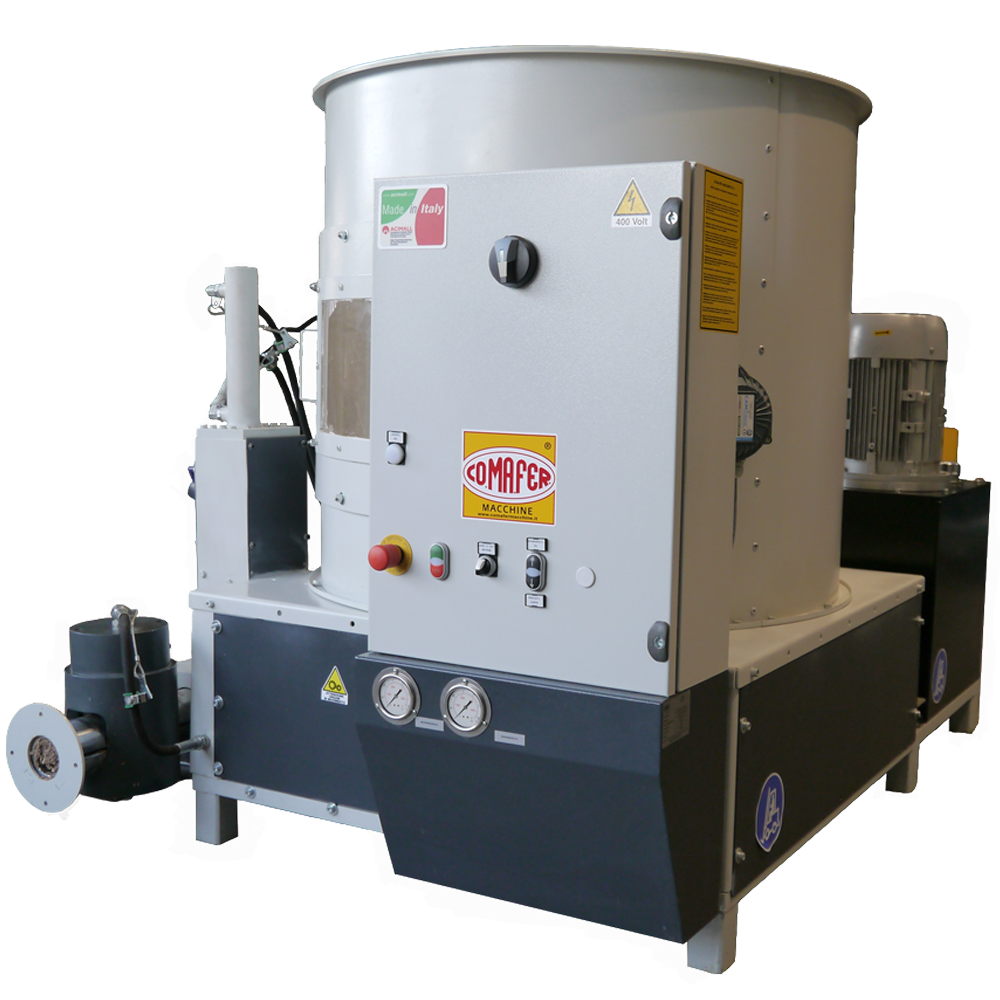 Special line briquetting presses
HITECH ELP 60 briquetting press
The product is for small- and medium-sized industrial and farming companies.
This is a hydraulic briquetting press  for recycling processing scrap for its reuse and regeneration. More specifically, very bulky scrap consisting of chips of wood, cotton, textiles, polyurethane, polystyrene, polyester, polypropylene, hay, straw, alfalfa, animal feed, etc., with a humidity ranging between 8% and 17% are transformed into cylindrical briquettes with variable diameter (depending on the briquetting press), resulting in a sensible reduction in volume 1/5–1/30 depending on the type of material and up to 150 times (as in the case of polystyrene). The briquetting press can be applied to silos or filtering batteries indoors or outdoors.
Operation
It is based on a mechanical and hydraulic cycle of high-pressure compacting. A material containment hopper is fastened to a loading bed consisting of a radial loader, which by rotating doses the material to a screw which, in turn, feeds it to a box controlled by a hydraulic cylinder that pre-compresses the material before it reaches the compression chamber. A special hydraulic compression cylinder then compresses the material in the sleeve-extrusion pipe unit.
Discover the qualities of our briquetting presses
The qualities
Over 40 years of experience and 18,000 machines sold.
Peerless quality in briquette compacting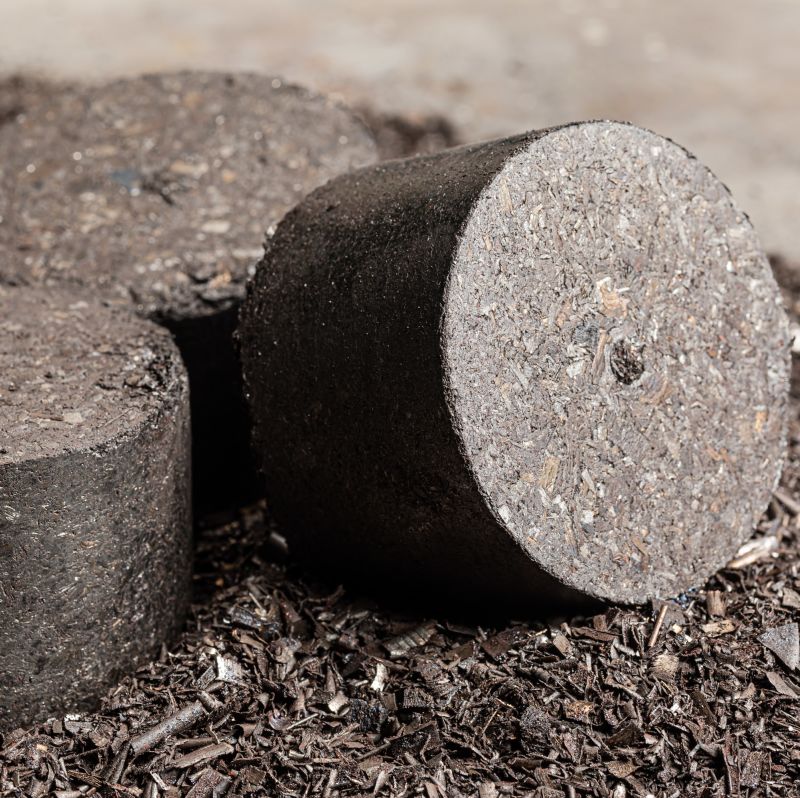 Superior construction, strong reliability and uncompromising performances.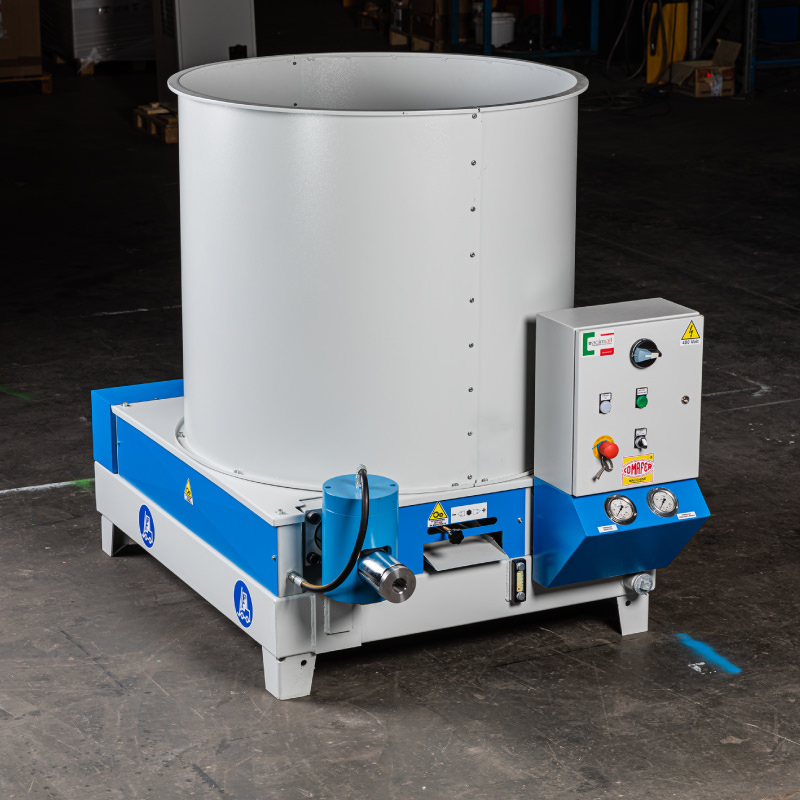 Cutting-edge technology, only premium-quality components for extremely high value added and an excellent price-quality ratio.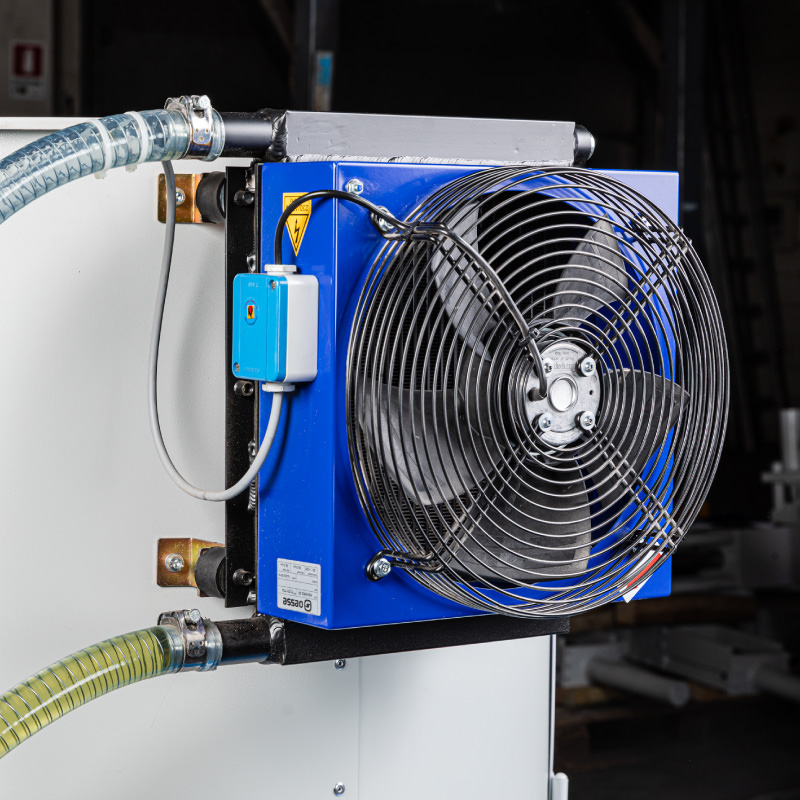 Maximum flexibility and ease of use.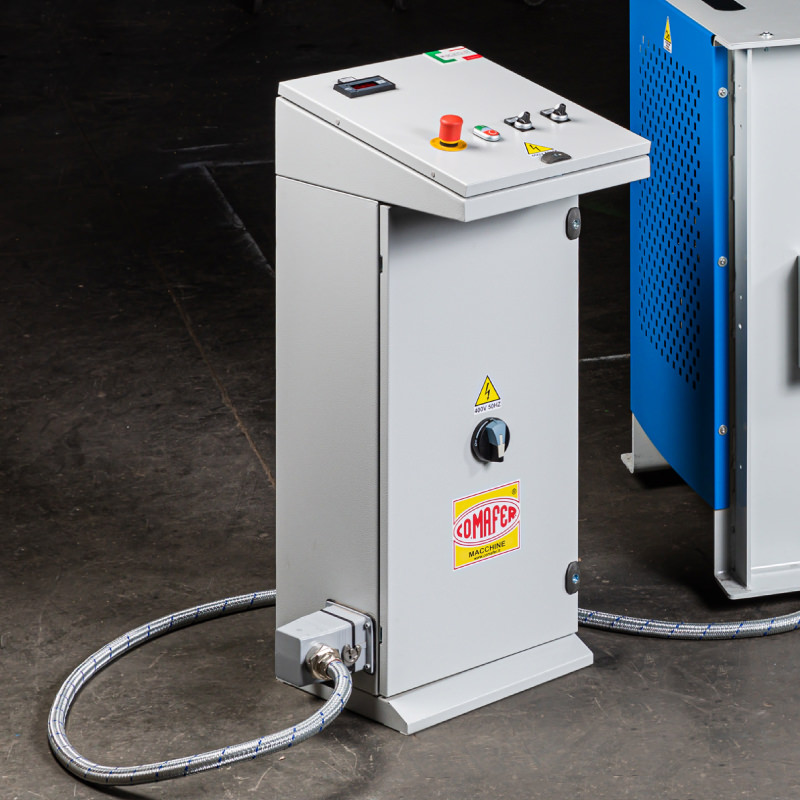 Design, compact size and ergonomics.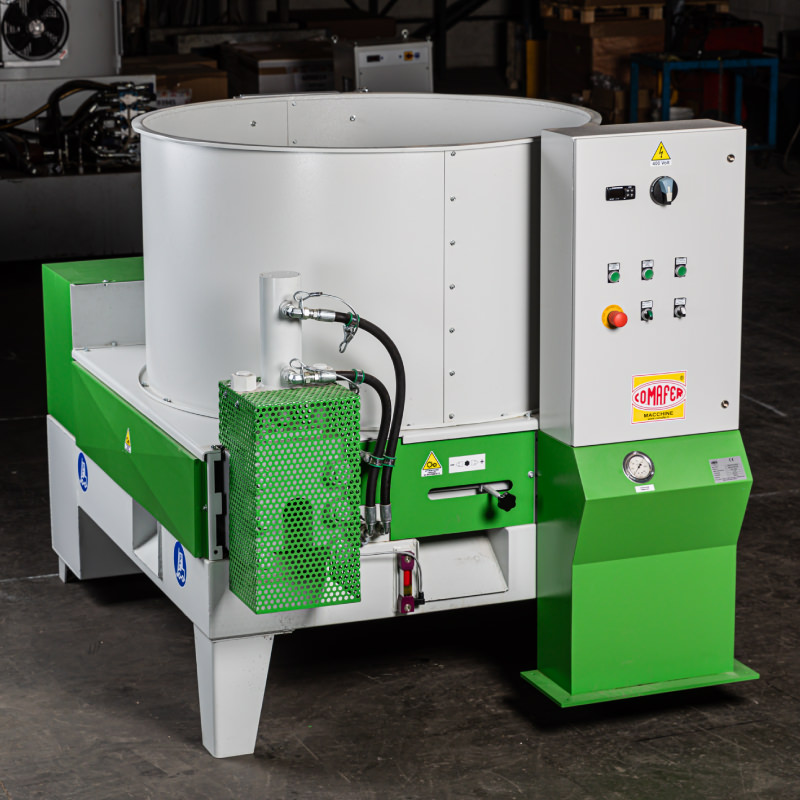 Limited running costs, reduced maintenance interventions and long working life.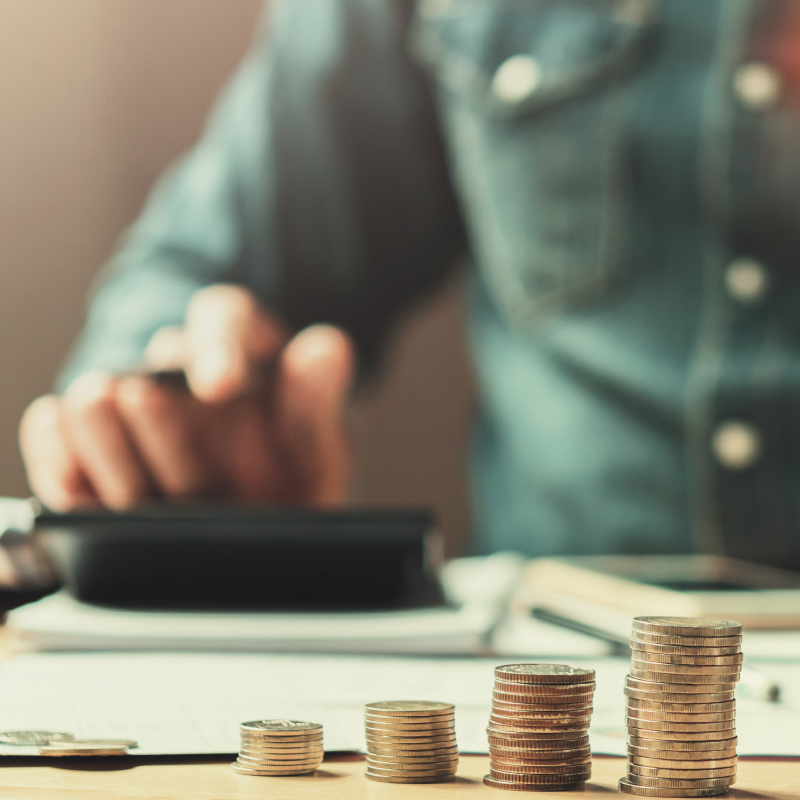 Over 130 specific checks during the testing phase on every machine to guarantee excellent quality.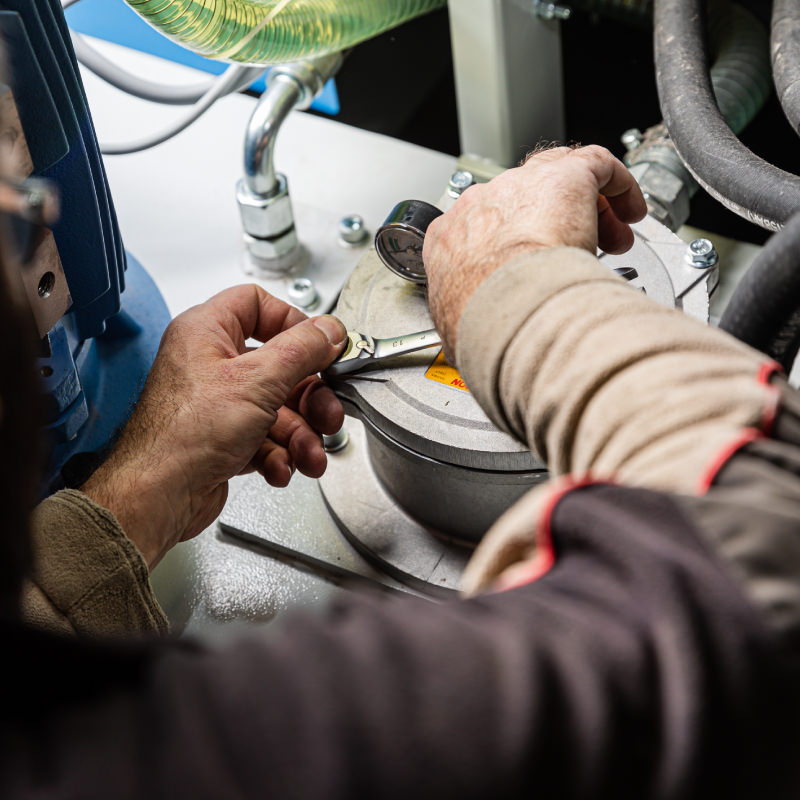 Technical characteristics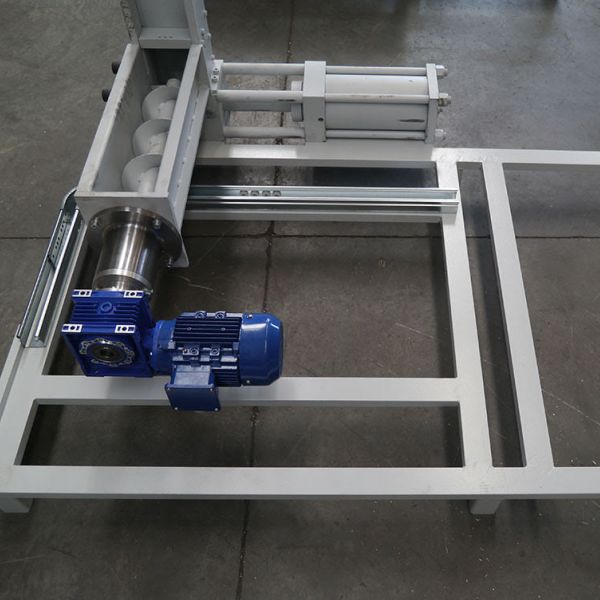 Base unit
Entirely redesigned and newly developed base unit
Base unit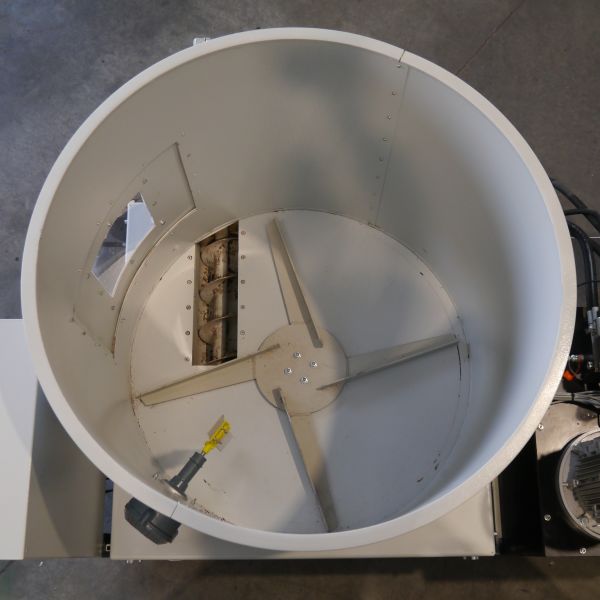 Feeding unit
Feeding unit consisting of a hopper that contains the material and a stirrer fastened to the bottom of the hopper which rotates, by means of a dedicated gearmotor for an optimal operating cycle, to ensure that material is fed to a screw positioned beneath the agitator, which guarantees loading of the material onto the tray
Feeding unit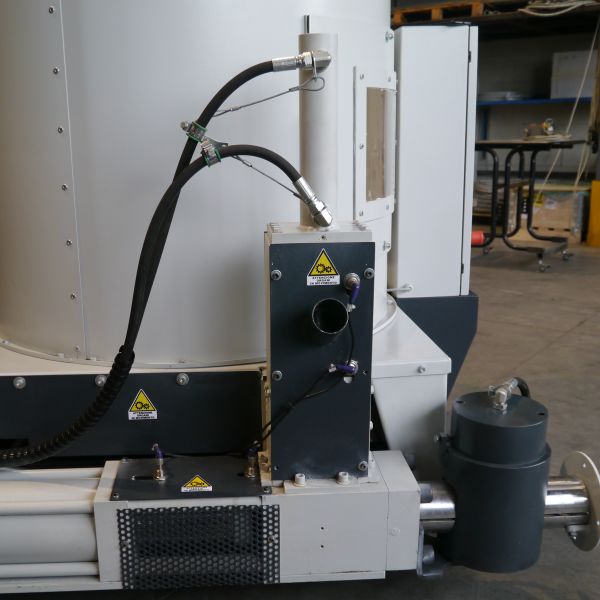 Box unit
New tray unit with enlarged shoulders, consisting of a tray cylinder with PARKER seals and lapped jacket, boasting excellent reliability, operating precision and durability criteria, fastened vertically to the compression cylinder, with the function of pre-compressing the material in the compression chamber through the screw
Box unit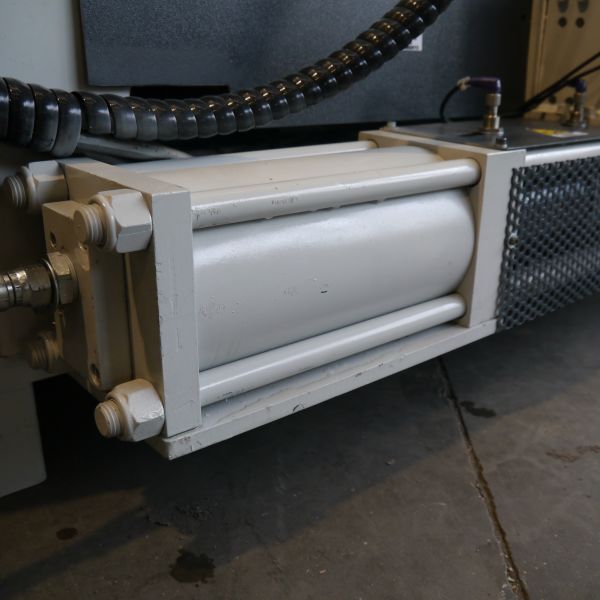 Compression unit
The compressing unit has been projected with excellent build quality and reliability criteria. It is composed of a hydraulic cylinder with Parker seals, lapped housing and screwed pistons and a piston rod to compress the material in a sleeve inside the compression chamber and shape the briquette.
 
Compression unit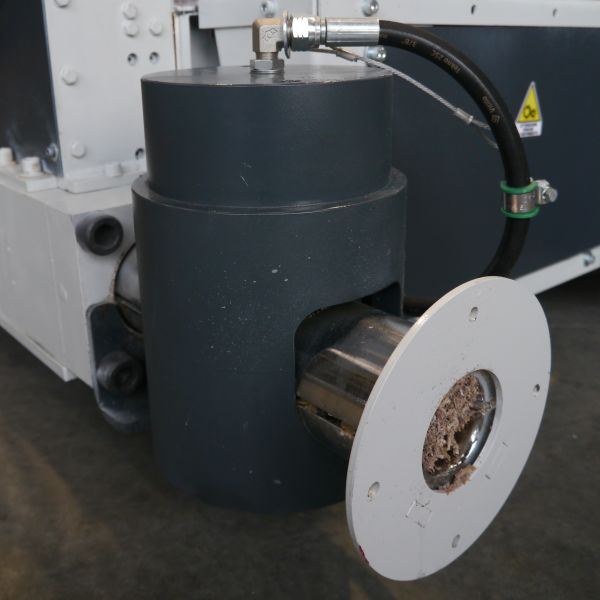 Vise unit
Vise unit with PARKER seals and guide rings (frequently imitated by competitors due to its unrivalled sturdiness and lasting reliability), consisting of a sturdy and reliable steel monobloc without tie-rods, secured to the extrusion pipe, designed for retaining the briquette during the compression phase and releasing it once the pressure required for forming the briquette has been reached. A dedicated pressure gauge allows for monitoring the operating pressure of the vise
Vise unit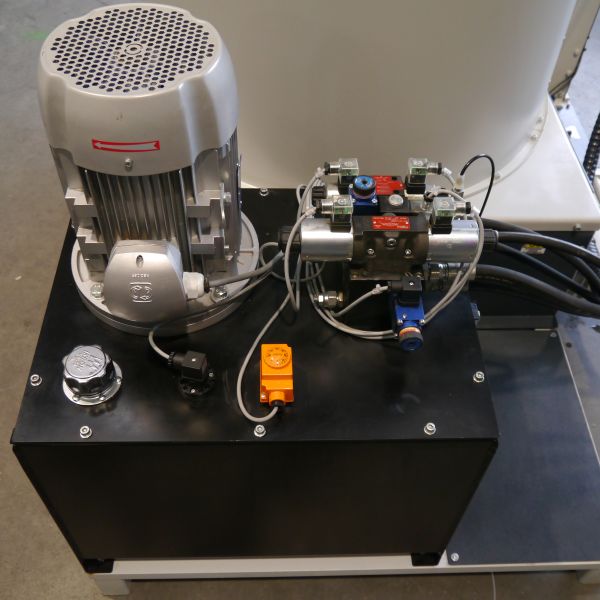 Hydraulic power pack
Newly developed hydraulic power pack with new-generation Argos Hytos solenoid valve assembly with high flow rates, low exchange time and oil temperature control thermostat
Hydraulic power pack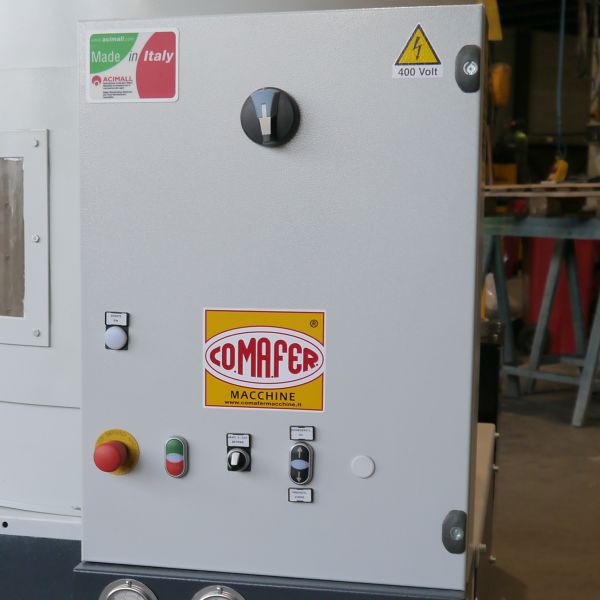 Electrical panel
IP66 electrical control panel equipped with digital SIEMENS LOGO PLC guaranteeing the utmost reliability and electronic control of the production process
Electrical panel
Technical data
Output
Kg/h
20÷ 85
Briquette
Ø mm
60
Box cylinder
Ø mm
50
Compression cylinder
Ø mm
140
Compression cylinder pressure
Kg/cm2
approx. 800
Pump motor power
kW
5.5
Voltage
Volt/Hz
400 / 50
Hopper
Ø mm
1000
Briquetting press dimensions
L (mm)

W (mm)

H (mm)
1300

2150

1400
Weight
Kg
980