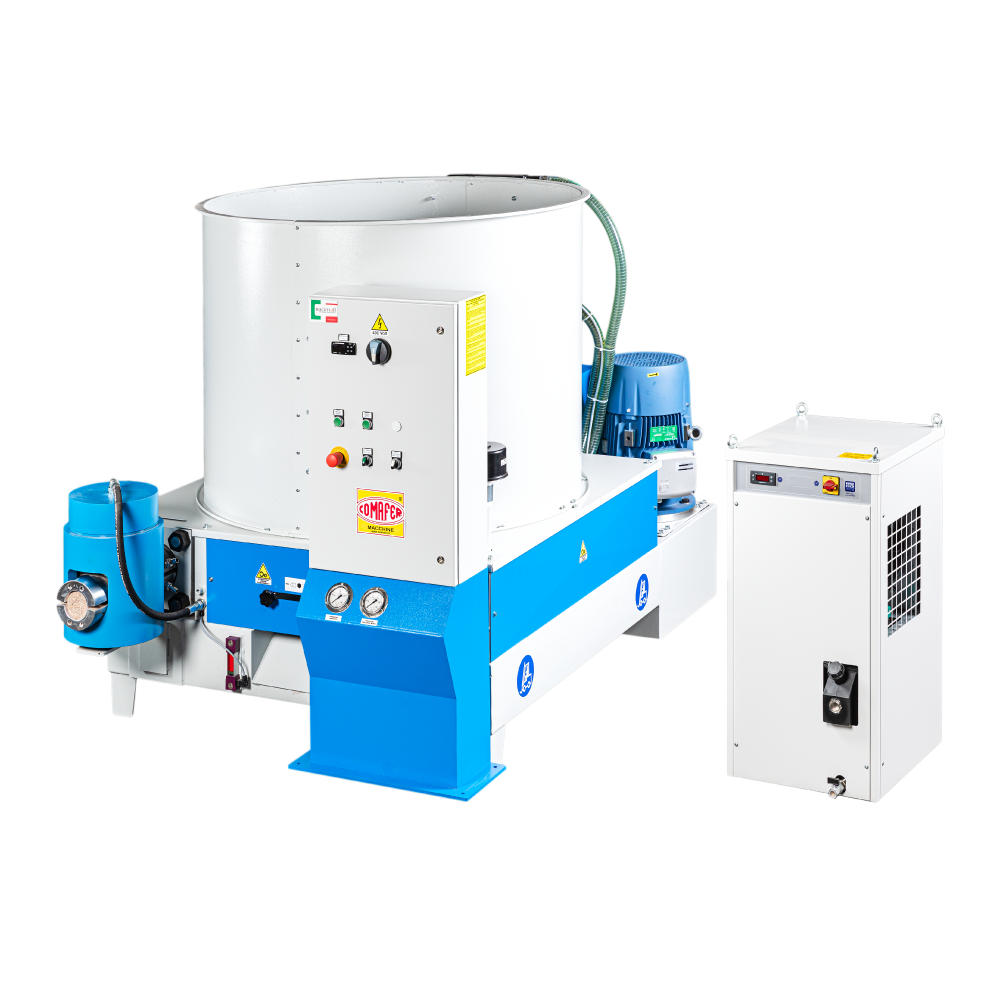 Wood briquetting presses
Dinamic 300S briquetting press
This is out TOP briquetting press with excellent performances for industrial applications and production of higher quality briquettes.
This product is a hydraulic machine for recycling wooden chips, sawdust, powder and ground scrap, depending on the screen mounted on the grinder, (the best moisture content should be between 8%–17%) coming from joineries, and transforming them into cylindrical briquettes without adding any binder or chemical additives offering considerable advantages. It is designed for being applied also to silos or filtering batteries indoors or outdoors.
Operation
Function is based on a mechanical and hydraulic cycle of high-pressure compacting. A material loading hopper with flush steel wheel stirrer on the bottom that rotates, ensuring the material is loaded into a box by a hydraulic cylinder with pre-compression function before the material reaches the compression chamber. A special hydraulic compression cylinder then compresses the material in the sleeve-extrusion pipe unit.
The advantages of our products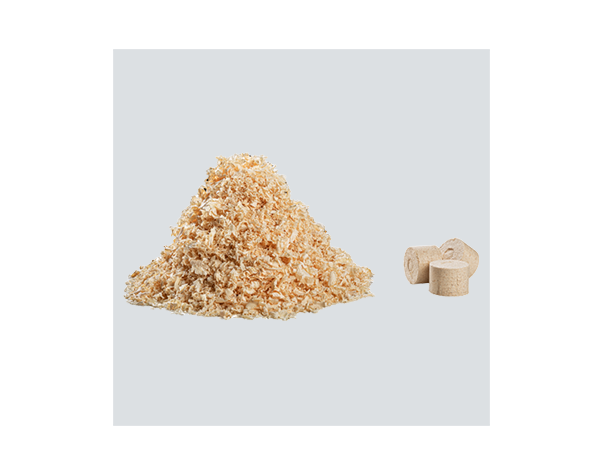 Reduction in volume -90%
Briquettes allow for sensible reduction in volume (depending on the type of material) due to their high pressure compactness rather than the chips. They make work environments considerably more organised and efficient. You can use new spaces to store products and for the production lines.
Reduction in volume -90%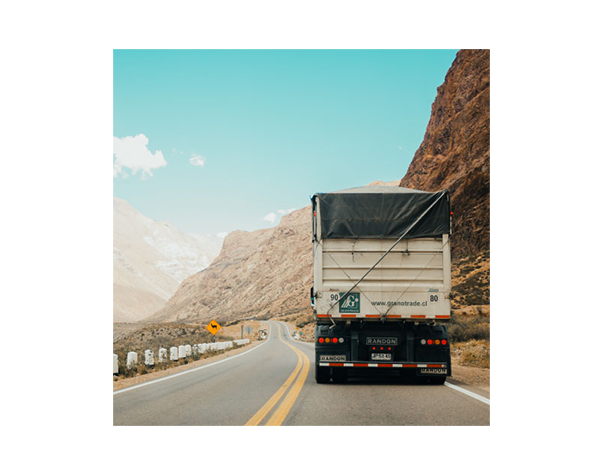 Lower handling and transport costs –80%
The briquettes ensures easy and practical handling, thus reducing internal and external transport costs (use of the forklift truck and, consequently, the time operators dedicate to collecting scraps).
Lower handling and transport costs –80%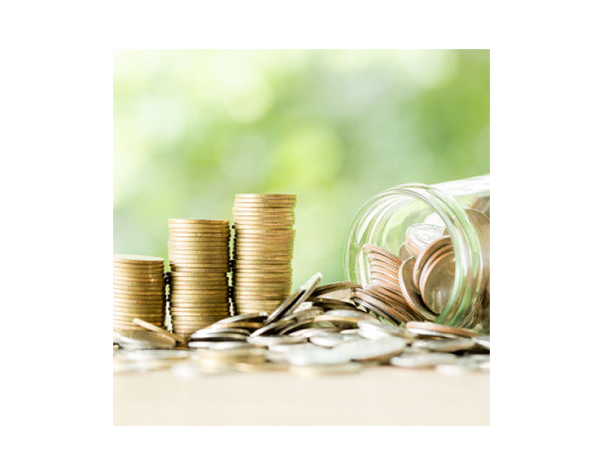 Lower recycling costs –70%
The lower transport costs for briquettes have a direct impact on the sales margin at the collection facilities and can represent a valuable source of income.
Lower recycling costs –70%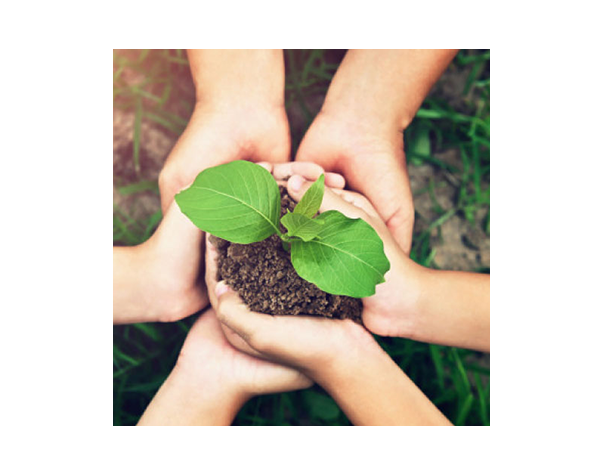 Lower environmental impact
Briquettes allow for reducing the environmental impact due to the conditions and state of the container or collection facilities, which are often not in a good state.
Lower environmental impact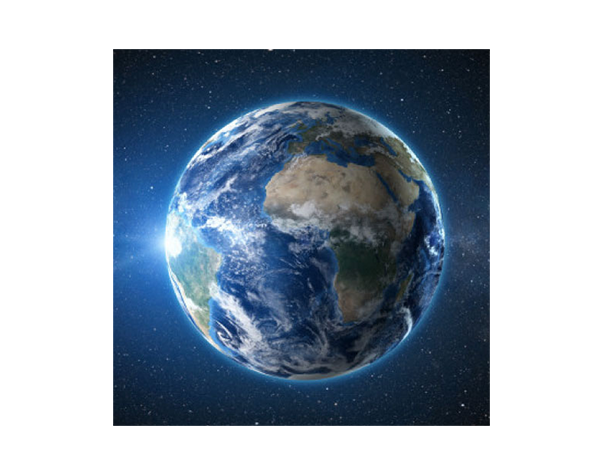 Lower environmental pollution –70%
The briquettes improve combustion in boilers and fireplaces thanks to an exceptional heat capacity. In turn, this sensibly optimises the yield resulting in less fumes generated and very limited post-combustion residues.
Lower environmental pollution –70%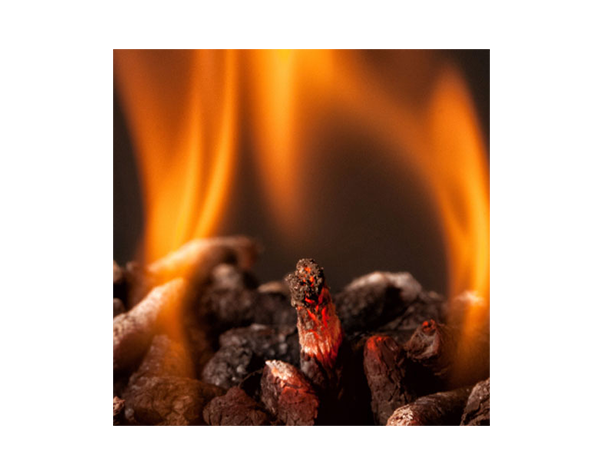 Higher yield +80%
The briquettes allows for concentrating high energy reserves in a limited volume with a high environmental conservation. During the combustion phase into boilers and fireplaces, the briquettes increase the yield quite sensibly owing to their fundamental characteristic of being compacted at extremely high pressures, as opposed to plain wood chips or shavings. Due to their exceptional heat capacity (wood briquettes have an average yield of 4,000/4,500 kcal, higher than of firewood, which is 2,000/2,300 kcal), they retain heat for longer keeping the temperature inside the boiler's firebox high. Owing to their physiological properties, they are ecofriendly, produce little smoke, have a high density, low percentage of humidity and burn slower and almost entirely with a very limited post-combustion residue. The boilers are cleaner and require less maintenance. Due to the very low porosity of briquettes, the embers produced during combustion are denser than to the ones produced by wood or by non-pressed biomass.
Higher yield +80%
Discover the qualities of our briquetting presses
The qualities
Over 40 years of experience and 18,000 machines sold.
Peerless quality in briquette compacting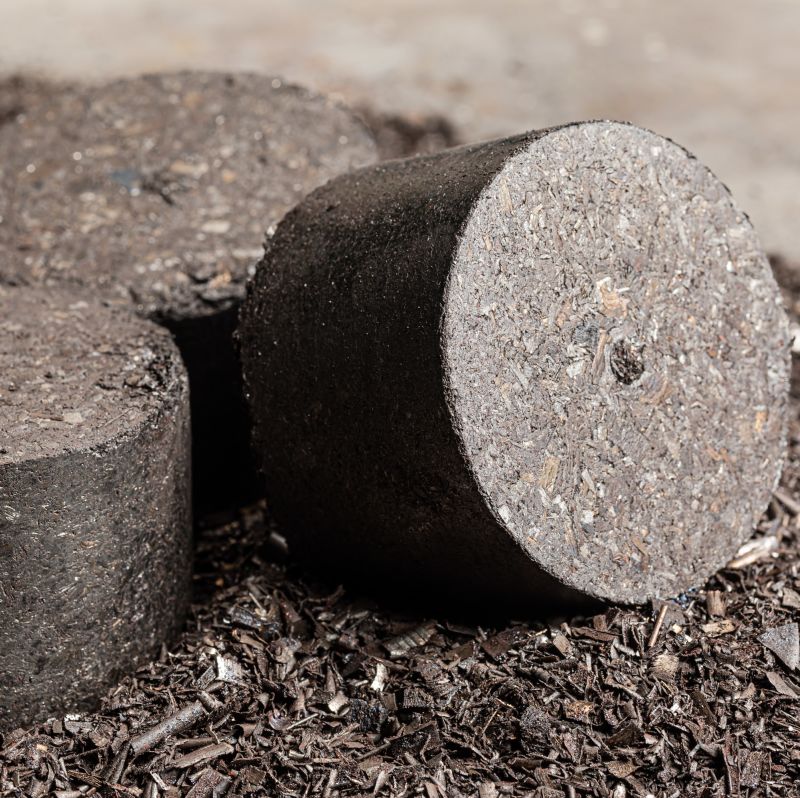 Superior construction, strong reliability and uncompromising performances.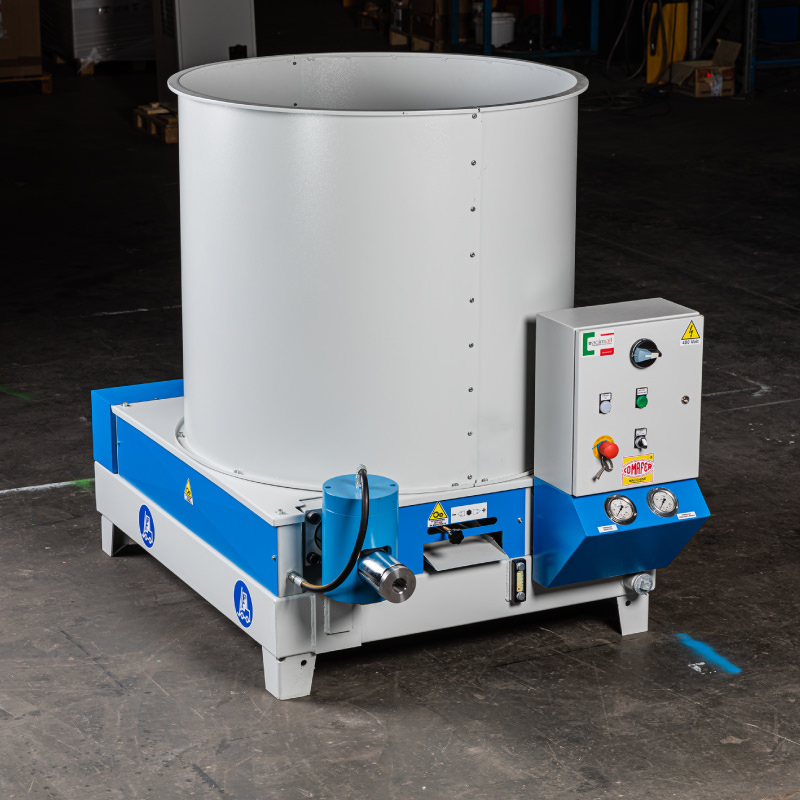 Cutting-edge technology, only premium-quality components for extremely high value added and an excellent price-quality ratio.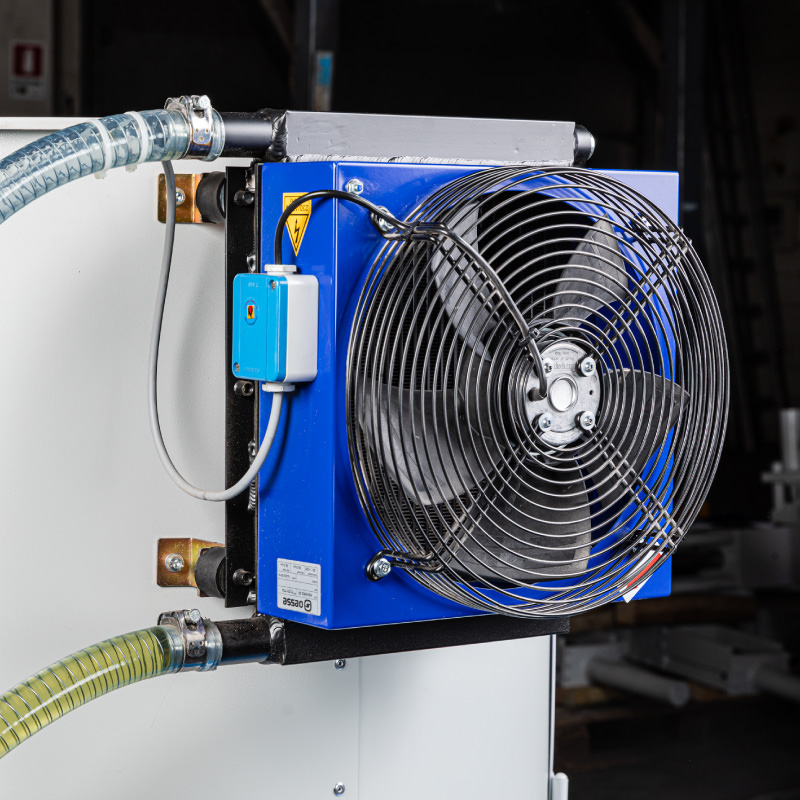 Maximum flexibility and ease of use.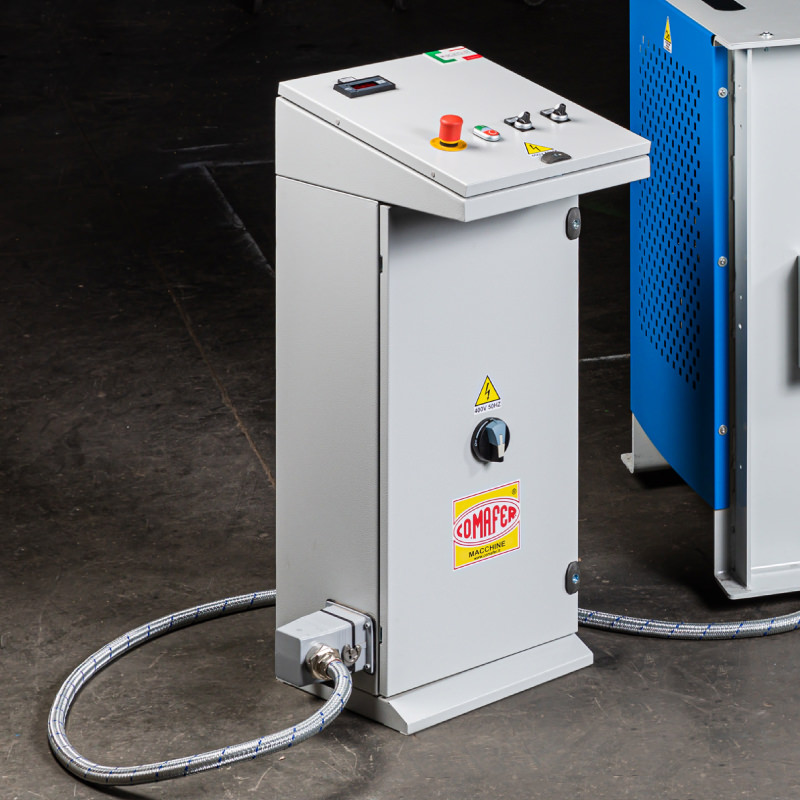 Design, compact size and ergonomics.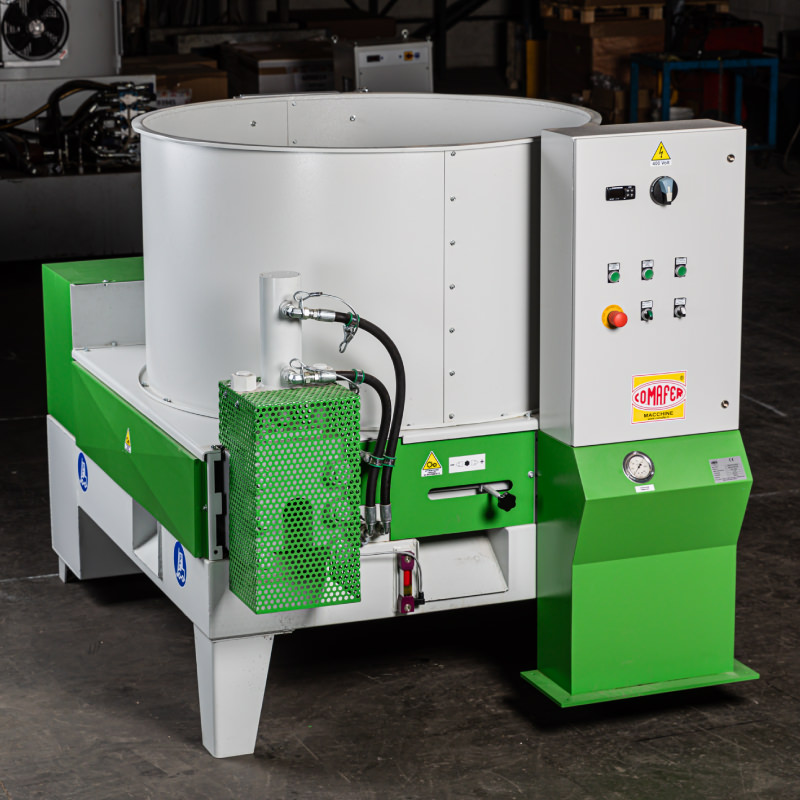 Limited running costs, reduced maintenance interventions and long working life.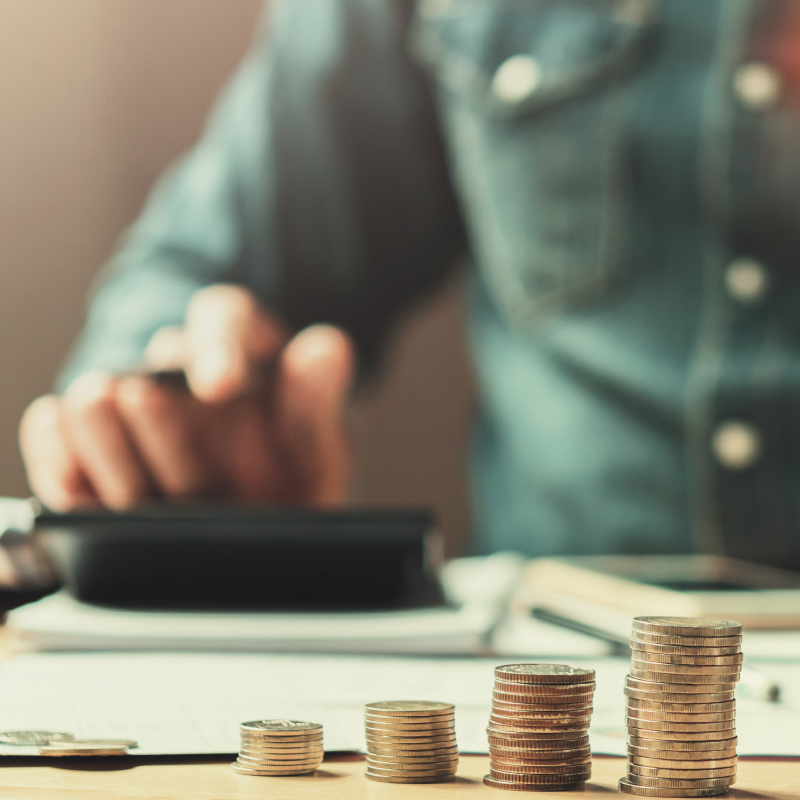 Over 130 specific checks during the testing phase on every machine to guarantee excellent quality.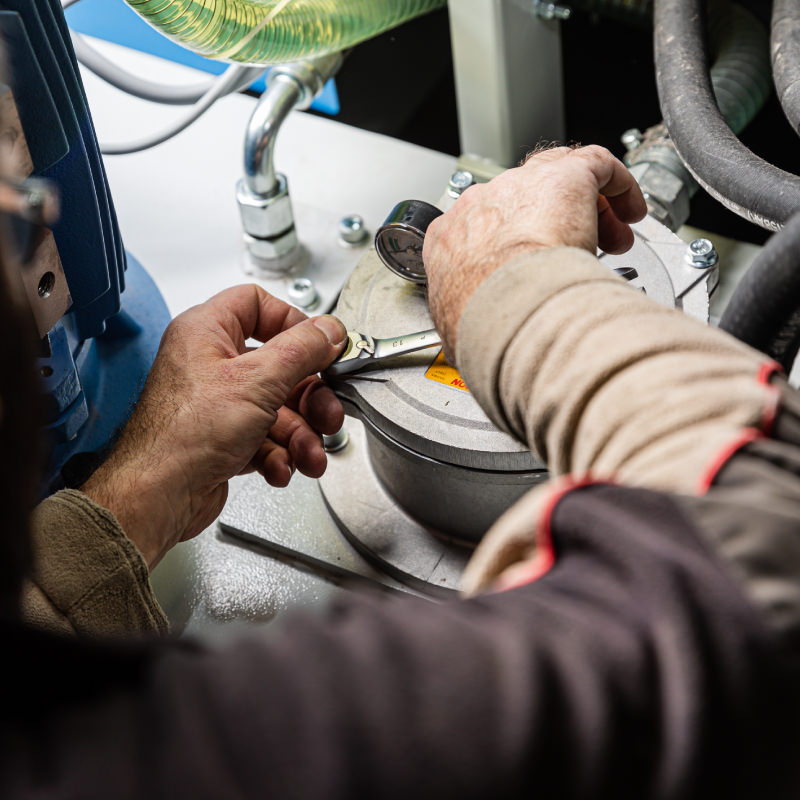 Technical characteristics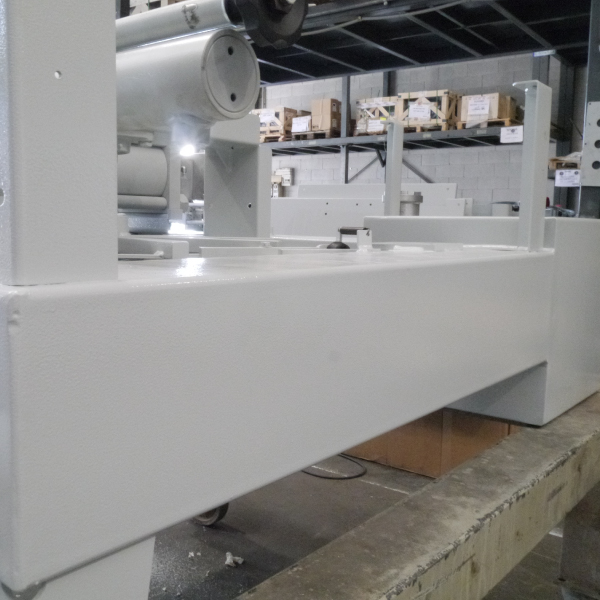 Base unit and oil tank
Base unit and oil tank designed and built with thick sheets and tubulars for superior resistance to stress that has been arc welded and powder coated. In addition to its support function, it also acts as the oil tank for hydraulic components. Mounted on the base unit is an IE3 Premium efficiency electric motor, connected to a Casappa hydraulic pump to pressurise the system, an oil filtration device, an output pipe with air filter and for oil refill, a max. oil temperature thermostat and an electrical oil-level sensor that stops the machine in the event of a leak.
Base unit and oil tank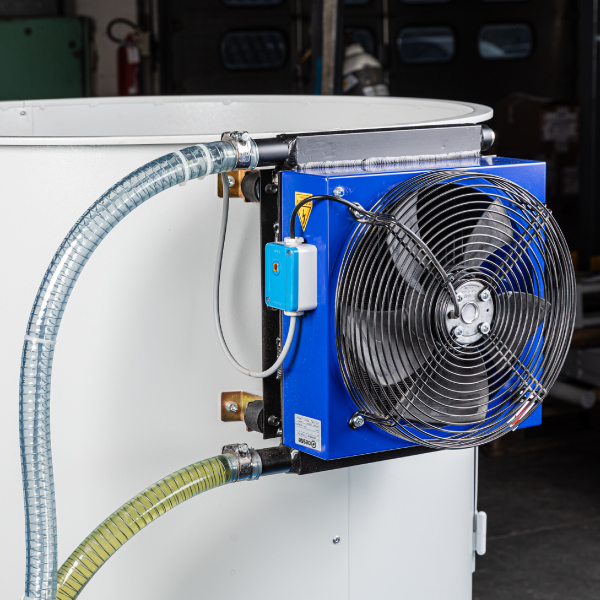 Oil cooling unit
Highly reliable oil cooling unit composed of a centrifugal pump that draws oil from the tank and sends it to an Oesse closed-circuit air/oil heat exchanger, optimising cooling and avoiding deterioration and consequent wear of components. This eliminates the problem of continuous water consumption and the possible formation of limescale, improving overall machine performance and enabling concrete savings in terms of maintenance.

 
Oil cooling unit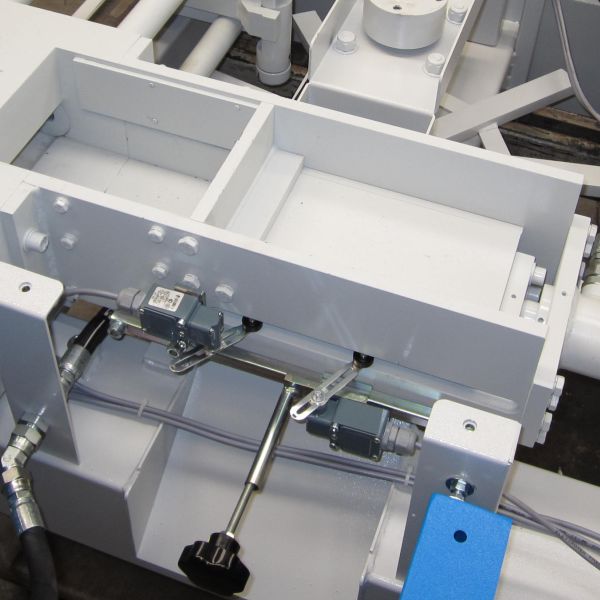 Box unit
The box unit has been projected with excellent build quality and reliability criteria. It is composed of a hydraulic cylinder with lapped housing and Parker seals, whose position is detected by proximity switches to optimize the exchanging time of the electrovalves). It activates the adjustable moving drawer to portion and pre-compress the material, from the loading hopper to a compression chamber.
Box unit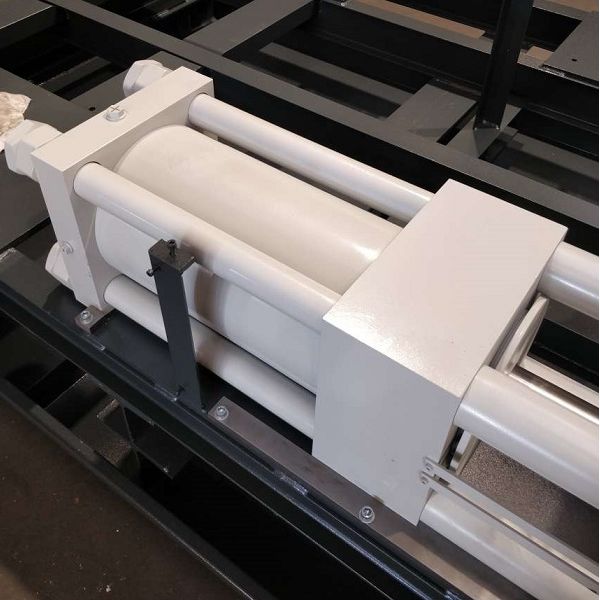 Compacting unit
Compacting unit designed with specific anti-wear components and treatments consisting of an oleodynamic compactor cylinder with two coaxial sections for maximum forward speed and maximum compaction force, optimizing hourly production. It is equipped with a piston rod (in K100) with the function of compressing the material inside a compaction chamber consisting of a front sleeve (in K110) and creating the briquette
Compacting unit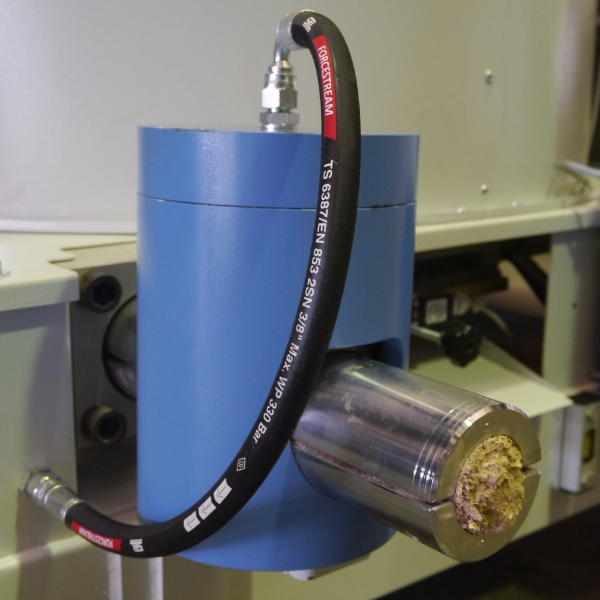 Vice unit
Vice unit composed of a CNC machined single-body vice with high-quality, high-reliability hydraulic cylinder and Parker seals and guide rings which holds and releases an extrusion pipe within which the briquette is held during the compression phase and released once the specific pressure required for briquette is reached. A dedicated pressure gauge allows control of vice operating pressure.

 
Vice unit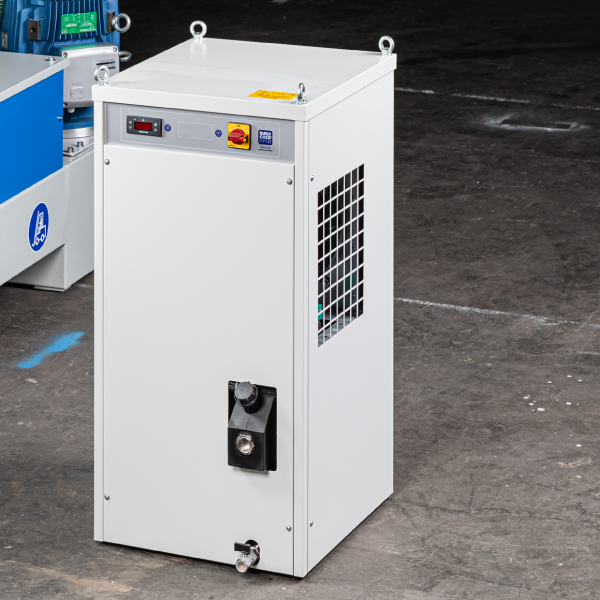 Cooling unit of the vice extrusion pipe
Cooling unit of the vice extrusion pipe with excellent build quality and reliability criteria and composed of a closed-circuit Euro Cold refrigerator module equipped with a heat pump and oil-temperature thermostat that maintains optimum cooling of the extrusion pipe, avoiding temperature increases and therefore problems regarding passage of the briquette within.

 
Cooling unit of the vice extrusion pipe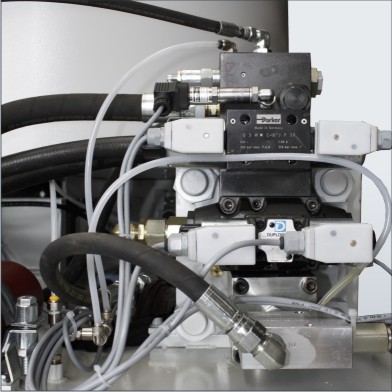 Hydraulic components
Entirely exclusive hydraulic components with high-performance and high-reliability manage the operating phases of the machine's briquetting cycle, optimising hourly yields. An exclusive block (manifold master) acts as a connection node for all hydraulic components. The movement and operating sequence of the cylinders is managed by two Eaton electrovalves.

 
Hydraulic components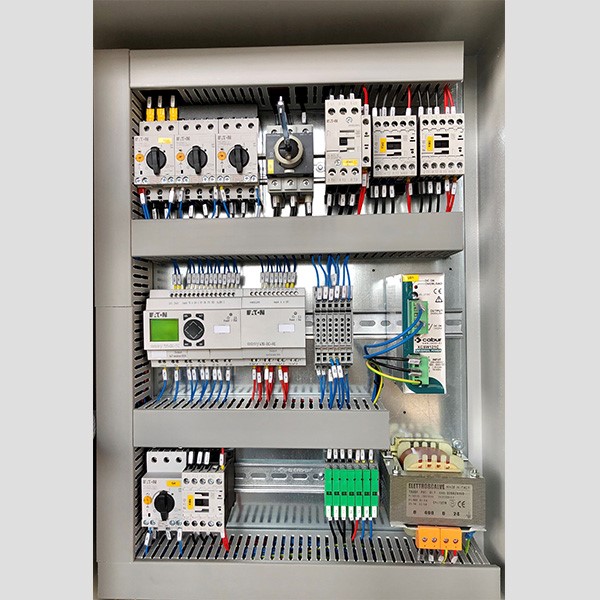 Electric control panel
State of the art IP 55 high technological and functional electric control panel equipped with brand new Eaton PLC (Industry 4.0) for the electronic control of the production process able to connect with computer's systems. The PLC is equipped with pressure discharge programme for progressive start-up. A digital thermostat controls the oil temperature.
 
Electric control panel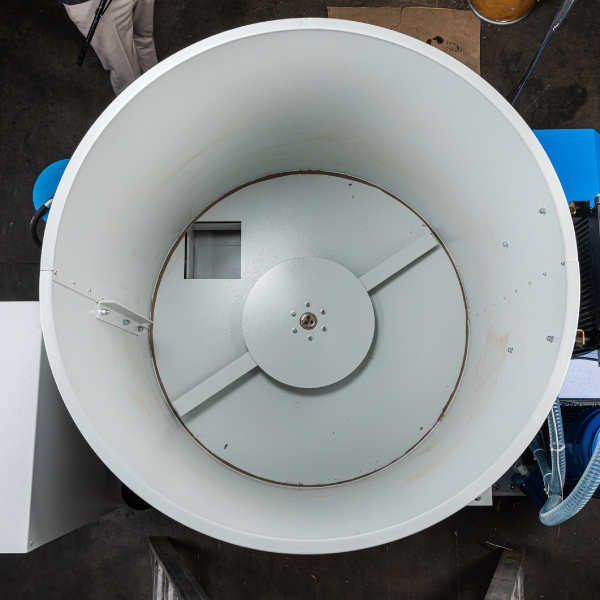 Loading unit
The loading unit has been designed for optimum functionality, with a material loading hopper and a flush steel wheel stirrer on the bottom that rotates by means of a Brevini gear motor, feeding material into a fixed chamber containing a moving drawer.

 
Loading unit
Technical data
Approximate output
Kg/h
120 ÷ 330
Briquette
Ø mm
75
Box cylinder
Ø mm
70
Compression cylinder
Ø mm
200
Maximum compacting pressure on the briquette
bar
850
Pump motor power
kW
15
Total installed power
kW
18
Voltage
Volt/Hz
400 / 50
Hopper
Ø mm
1200
Briquetting press dimensions
L (mm)

W (mm)

H (mm)
1350

2250

1530
Weight (kg)
Kg
1800
 
Refrigerator:
Voltage
Volt/Hz
220 / 50
Refrigerator module dimensions
L (mm)

W (mm)

H (mm)
562

595

1030
Weight (kg)
Kg
100